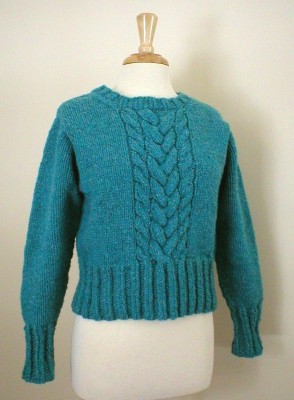 Cropped Cable Pullover Kit *** LARGE ***
Quantity in Basket:
None
Price:
$94.00
Shipping Weight:
3.00 pounds
This gorgeous, cold-weather sweater was created by designer Dawn Brocco of Saugerties, NY. It requires intermediate skills. The kit uses double strands of Dusty Mallard, but any of our worsted weight dyed colors can be substituted in the kit. The double strand concept allows for many options, including using two similar shades to create subtle color variations. The pattern has instructions that include an optional turtleneck, which requires an extra skein of yarn. If you wish to order this kit in another color or combination of colors, simply send me an email message with your specifications to leanne@beaverslide.com. It will then be customized accordingly. The kit comes in a vinyl bag with the pattern and color photos in a protective sleeve, and 8 skeins of yarn.
This design is quick and easy to knit. There are only three cable patterns centered on the front. The back and sleeves are in stockintette. To give structure to the soft wool yarn, as well as a strong vertical element, I used twisted ribbing for the lower edge, cuffs, neck edge and separate turtleneck. Only the knit stitches are twisted, so it is also not difficult to knit.
This yarn is wonderfully soft, as it is made from 90% Delaine Merino and 10% kid mohair, but it is not a hairy yarn, as one would expect with mohair content. The soft kid mohair just adds a touch of silkiness. The yarn is used doubled, to make this a cozy, warm sweater that should be enjoyed for many years!